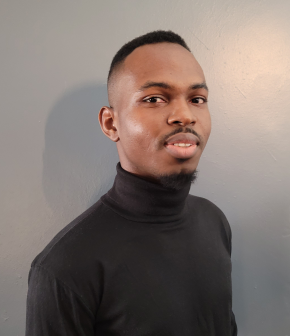 I'm

Williams Johnson
Developer and Server Administrator
Age

30

Address

RD 13 4B AlHAJI ESTATE

E-mail

[protected email address]

Phone +234 812 928 4941
Freelance

January 10, 2022 to December 24, 2022

Hourly Rate

$20 updated: 05/06/2021 11:34:16 am

December 25, 2022 to January 09, 2023
Hello, I am Williams Johnson, a skilled developer and systems administrator with experience providing support for Radsystems Studio and PHPRad Classic 2.7.3, and expertise in several programming languages, including PHP, SQL, JS, HTML, CSS, C#, and C++. I have a proven track record in designing, developing, testing, and deploying complex applications using various frameworks and tools, as well as deploying and maintaining critical systems like web servers and databases. My broad skillset and experience makes me a valuable asset to any organization requiring development, systems administration, or support expertise.
Professional Skills
Google Cloud Platfrom 65%
Work Experience
2015 - 2021
Dsaved
Web / Mobile Developer
I am responsible for building client's mobile and web apps, hosting the apps and the maintenance of the server.
2018 - 2020
Best Auto Solutions Gh
Server Administrator
I was responsible for creating and setting up a VPC with amazon AWS, installed required apps to run their application and ensured the server was well secured. I was also part of the team that built their website.
2017 - 2018
Amarlogix Ghana Limited
IT Personel
I was responsible for the development and maintenance of the company's websites, and also making sure the server was ok.
2015 - 2018
JSS Media
Network / Server Administrator
I was responsible for the company's network and security of the their server, updates and maintainance on a daily basis also making sure that clients web apps hosted on our servers are live.
Education
2019 - 2022
BE Computer Science
ESCAE UNIVERSITY BENIN
2015 - 2017
BE Computer Engineering
Accra Institute of Technology, Accra.
2013 - 2015
BE Computer Engineering
All Nations University College, Koforidua.
2010 - 2011
Senior WAEC
Demonstration Secondary School, Rivers.
2006 - 2009
Junior WAEC
Immaculate Comprehensive College, Rivers.
2002 - 2003
First School Leaving Certificate
Children's International Day-Care, Nursery and Primary School, Calabar.
References
WIllvin is a great guy to work with, smart, good knowledge of many development environments. We work together on our software project, he is mostly front-end. He is a real asset.

Henk Spierings SPIeR-IT Business Solutions BV , Owner

I have worked with willvin, he is a professional, and I am happy with his work.

Daniel Johnson Dsaved Ltd , CEO
My Interests
Here is a list of my hobbies, including coding.
Bicycling
Watching Movies
Shopping
Playing Tennis
Bowling
Swimming
Playing Games
Contact Me
Address RD 13 4B AlHAJI ESTATE
phone +234 812 928 4941
E-mail [protected email address]