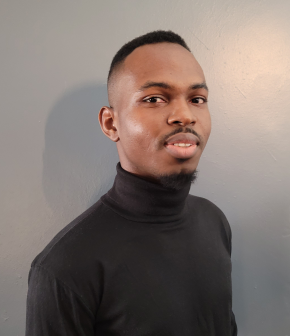 I'm

Williams Johnson
Developer and Server Administrator
Age

30

Address

Aplaku Clinic Old barrier, Accra, Ghana.

E-mail

[protected email address]

Phone +233 50 290-3298
Freelance

January 10, 2022 to December 24, 2022

Hourly Rate

$20 updated: 05/06/2021 11:34:16 am

December 25, 2022 to January 09, 2023
Introducing Williams Johnson, a dynamic Senior Web Developer who specializes in crafting visually stunning and intuitive front-end experiences. With years of experience under his belt and a deep understanding of the development process, Williams is a true expert in languages such as JavaScript, SQL, and C. But his skills don't stop there, he's also a master of project management, known for his ability to build strong partnerships with clients and deliver projects on time and under budget.
Professional Skills
Google Cloud Platfrom 65%
Work Experience
2015 - 2021
Dsaved
Web / Mobile Developer
I am responsible for building client's mobile and web apps, hosting the apps and the maintenance of the server.
2018 - 2020
Best Auto Solutions Gh
Server Administrator
I was responsible for creating and setting up a VPC with amazon AWS, installed required apps to run their application and ensured the server was well secured. I was also part of the team that built their website.
2017 - 2018
Amarlogix Ghana Limited
IT Personel
I was responsible for the development and maintenance of the company's websites, and also making sure the server was ok.
2015 - 2018
JSS Media
Network / Server Administrator
I was responsible for the company's network and security of the their server, updates and maintainance on a daily basis also making sure that clients web apps hosted on our servers are live.
Education
2019 - 2022
BE Computer Science
ESCAE UNIVERSITY BENIN
2015 - 2017
BE Computer Engineering
Accra Institute of Technology, Accra.
2013 - 2015
BE Computer Engineering
All Nations University College, Koforidua.
2010 - 2011
Senior WAEC
Demonstration Secondary School, Rivers.
2006 - 2009
Junior WAEC
Immaculate Comprehensive College, Rivers.
2002 - 2003
First School Leaving Certificate
Children's International Day-Care, Nursery and Primary School, Calabar.
References
WIllvin is a great guy to work with, smart, good knowledge of many development environments. We work together on our software project, he is mostly front-end. He is a real asset.

Henk Spierings SPIeR-IT Business Solutions BV , Owner

I have worked with willvin, he is a professional, and I am happy with his work.

Daniel Johnson Dsaved Ltd , CEO
My Interests
Here is a list of my hobbies, including coding.
Bicycling
Watching Movies
Shopping
Playing Tennis
Bowling
Swimming
Playing Games
Contact Me
Address Aplaku Clinic Old barrier, Accra, Ghana.
phone +233 50 290-3298
E-mail [protected email address]